Quarter-turn Actuators PSQ
Electrical quarter-turn actuators up to 2800 NM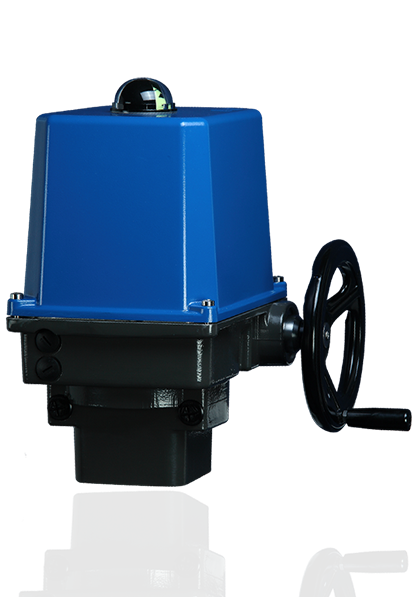 Planetary gear
Manual operation without clutching
Exchangeable drive bush for valve stem connection
The compact PSQ quarter-turn actuators of PS Automation are available from 50 Nm up to 2800 Nm torque. Different stroke options are available e.g. 90°, 180° or others. They are even available with continuous rotation upon request.
They are mature and proven, very robust and completely maintenance free. Since entering the marketing 15 years ago, gear damages by wear have not occurred under normal operation.
This is why we can assume that a PSQ lasts as long as the valve. When buying a PSQ from PS Automation, the specialist for valve actuators, the only thing to consider is the reasonable price as well as the running costs. There are no maintenance costs!
– Maintenance-free and highly efficient planetary gear
– Adjustable torque switches
– Manual operation without clutching
– Exchangeable drive bush for valve stem connection
– Wide range of accessories for retro-fitting
| | | | | |
| --- | --- | --- | --- | --- |
| PSQ103 | 130 Nm | 8 – 16 s / 90° | F05/F07 | 24/115/230/400 VAC and 24 VDC |
| PSQ103 | 130 Nm | 32 – 65 s / 90° | F05/F07 | 24/115/230/400 VAC and 24 VDC |
| PSQ103 | 150 Nm | 32 s / 90° | F05/F07 | 24/230/400 VAC |
| PSQ203 | 250 Nm | 20 – 69 s / 90° | F07/F10 | 24/115/230/400 VAC and 24 VDC |
| PSQ203 | 300 Nm | 69 s / 90° | F07/F10 | 24/230/400 VAC |
| PSQ503 | 500 Nm | 29 – 93 s / 90° | F10/F12 | 24/115/230/400 VAC and 24 VDC |
| PSQ503 | 600 Nm | 93 s / 90° | F10/F12 | 24/230/400 VAC |
| PSQ703 | 700 Nm | 29 – 93 s / 90° | F10/F12 | 24/115/230/400 VAC and 24 VDC |
| PSQ1003 | 1000 Nm | 29 – 120 s / 90° | F12/F14 | 24/115/230/400 VAC and 24 VDC |
| PSQ1503 | 1500 Nm | 60s / 75s / 80s / 90s | F12/F14/F16 | 24/115/230/400 VAC and 24 VDC |
| PSQ2003 | 2000 Nm | 120s / 160s / 172s | F16 | 24/115/230/400 VAC and 24 VDC |
| PSQ2803 | 2800 Nm | 120s / 160s / 172s | F16 | 24/115/230/400 VAC and 24 VDC |
Sales Brochure PSQ / PS-AMS PSQ
Data Sheet PSQ103 8-16 sec
Data sheet PSQ103_32-65 sec
Data Sheet PSQ503 Low Temp
Data Sheet PSQ2003, PSQ2803
Operating Instruction PSQx02
Short Operating Instruction PSQx02
Operating Instruction PSQx03
Short Operating Instruction PSQx03