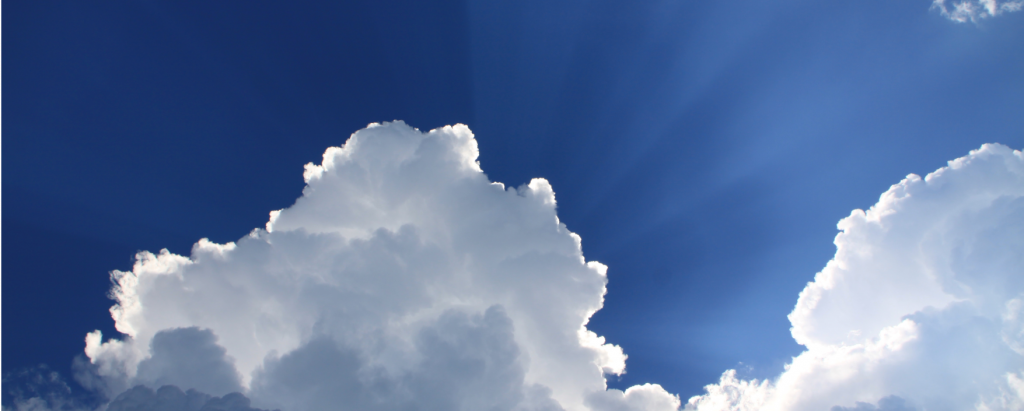 Certification and environment
PS Automation GmbH works with an integrated management system according to DIN EN ISO 9001:2015 and DIN EN ISO 14001:2015. Since 2001, we have undergone annual certification of the quality management system according to DIN EN ISO 9001. In May 2018, we received certification for the first time according to DIN EN ISO 14001, theinternational environmental management standard. With the implementation of this management system, PS Automation has taken another important step towards sustainability, which encompasses the commitment in all areas equally and should enable an improvement of the company structure in the long term.
What does this mean for you?
Our customers are both at the beginning and at the end of all processes, as our ultimate goal is to achieve customer satisfaction. All employees live our management system and are therefore significantly involved in process improvements. Short decision-making processes and high flexibility distinguish us! Let us convince you of our service.
Our environmental management system takes into account direct and significant environmental aspects already in the development phase. Thus, PS Automation guarantees you a sustainable production and the careful use of natural resources.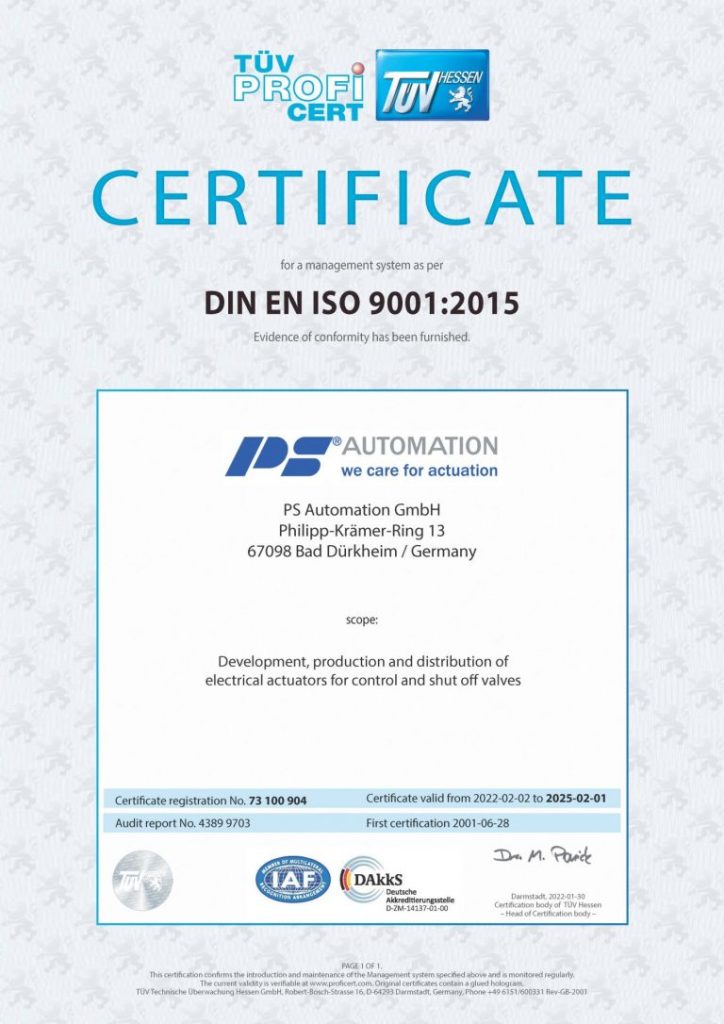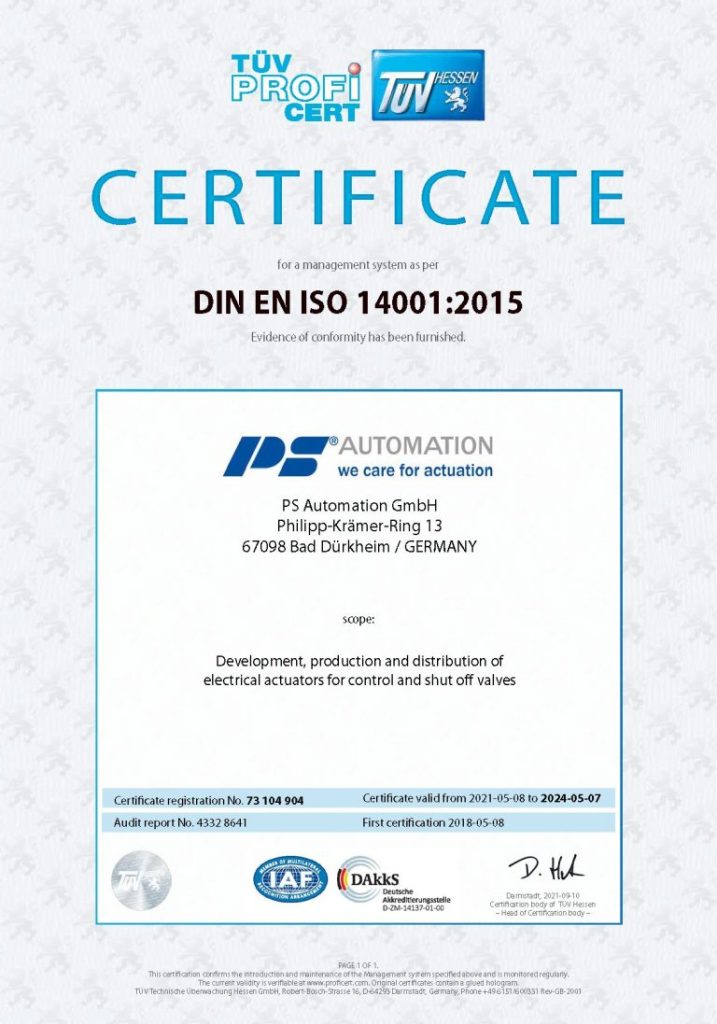 Dodd-Frank Act Section 1502

Conflict minerals are raw materials from countries in which armed conflicts are being fought. For the purposes of the Dodd-Frank Act, this includes the raw materials tin, tantalum, tungsten, columbite, and gold and their derivatives that originate from the Democratic Republic of Congo and neighboring countries.
We are indirectly affected as a supplier and take our responsibility very seriously, so we have questioned our suppliers regarding the use of the above substances and indicated that we do not accept minerals from conflict zones.
The PS Automation GmbH (PSA) has recognized early on that it is goal-oriented to manufacture high-quality products in terms of functionality and quality without disregarding relevant environmental aspects. Therefore we live according to the following company policy: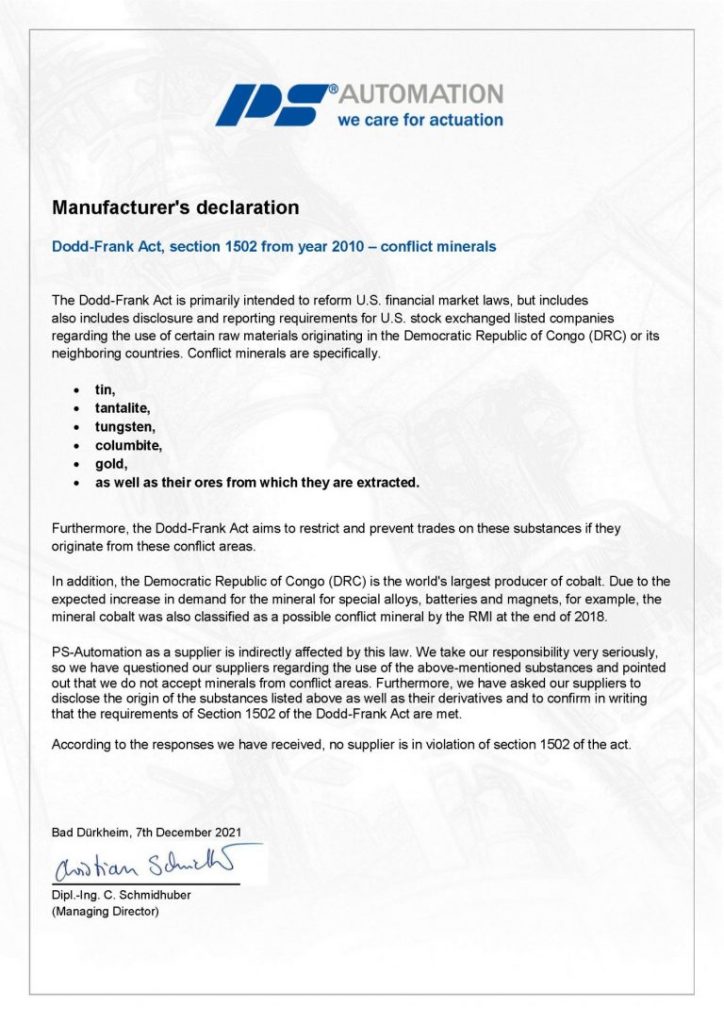 This regulation establishes a Union supply chain due diligence system with the aim of limiting the ability of armed groups and security forces to trade in tin, tantalum and tungsten, their ores and gold. This regulation aims to provide transparency and security regarding the supply practices of Union importers as well as smelters and refiners sourcing raw materials from conflict and high-risk areas.
PS Automation GmbH
Philipp-Krämer-Ring 13
67098 Bad Dürkheim
E-Mail: info@ps-automation.com
Tel.: +49 (0) 6322 94980 – 0